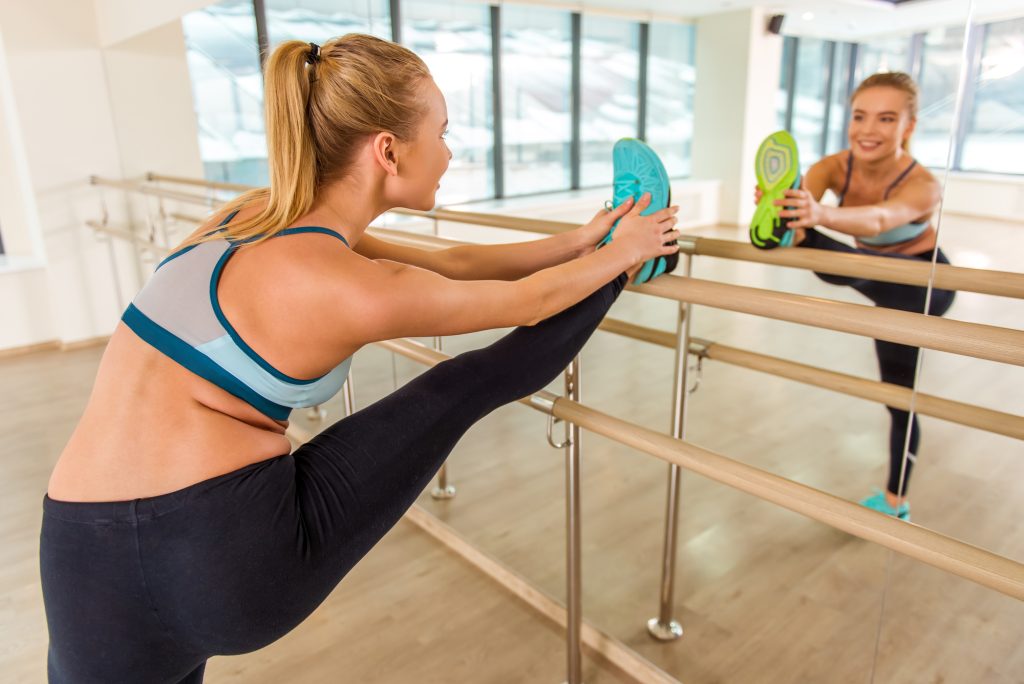 Barre, ballet and tap
Mary Jo teaches barre, ballet and tap at the studio, here is one student's perspective.
Barre
Barre can be a gentle, strengthening exercise. You can achieve improved balance and posture.
Perhaps you have never tried a barre class. Come join us for an easy introduction to this genre.
Mary Jo demonstrates where and how each leg and arm will go, as well as in which sequence and finally, in what tempo. Contemporary pieces accompany the actual performance of each barre sequence and- get this! -Mary Jo now again performs the sequence with you providing a beautiful model to follow as you execute the sequence. She also, carefully keeps an eye on your execution of the steps and sequences and effectively pinpoints improvements and variations as needed.
The barre classes are small enough, so you receive individual, specific suggestion for modifications and almost effortless progress. You can be a beginner and still feel your performance is noteworthy. Just follow the pro!
Mary Jo's Barre class is now offered virtually Thursdays from 6:00-6:45pm.
Ballet
Mary Jo demonstrates the sequence of ballet movements she has choreographed for each piece of music. She then plays the accompanying music and carefully follows the students' execution of the ballet moves, gently correcting if required. She spots good renditions and notes them with encouraging compliments.
In practice, the class is geared to participants. I myself had 2 years of ballet instruction prior to attending Mary Jo's class. Nonetheless, I can follow the class and, thanks to Mary Jo's observations, progress. This is a fun ballet class in which you can also grow!
Advanced Beginner/ Intermediate Ballet class is offered virtually on Mondays, from 6:30-7:00pm.
Tap
So let's talk about Tap! I thought Shirley Temple was adorable on The Good Ship Lollipop. Personally, I had never tried tap before. I love folk dancing, ballet and of course Zumba. How do you even move toe to heel and back, and how do you know when to do so? Besides, I never owned a pair of tap shoes! So of course I was intrigued with the possibility of trying a tap class. Elizabeth, Fit for Life Jenkintown's owner/director even leant me a pair of tap shoes! P.S. I've now graduated to my own!!
Although Mary Jo is an experienced dancer and teacher, she understands a beginner's hesitation and is often checking back with me," Sarah, did you get that?" She will then, as needed, patiently demonstrate the sequence of steps again. I often feel like a beginner, but hey, I am! Moreover, guess how great it feels when I get the sequence!!
Please do join us for Virtual Adult Beginner Tap Mondays at 7:30 PM.
Benefits of barre and dance
So we know the teacher is a plus.. what about the material? How does it figure in improving your figure? Yes, dance  and barre can help burn fat, reduce stress, increase flexibility and strength, challenge and define muscle, improve posture and stability. All excellent, healthy goals. Okay, here comes the punch line: It is fun!
These barre, ballet and tap are a great way to add movement to your day, please join us! https://fitforlifejenkintown.com/programs/
To supplement your classes, if you would like guidance with nutrition or diet planning reach to us at info@fitforlifejenkintown.com