How Would You Like To Have Your Favorite Fitness Classes In Your Own Home?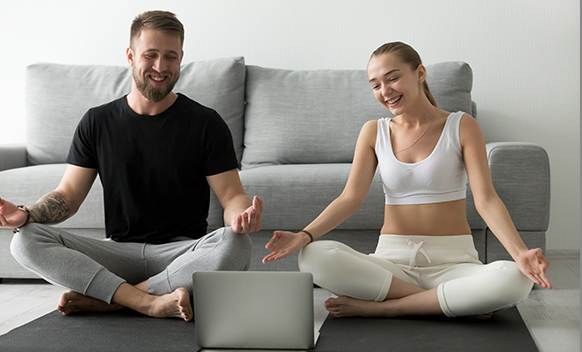 While we can't hold classes at Fit For Life Jenkintown, I still truly care about your well-being.
So, we've put together live work outs to keep you dancing, moving, and healthy during this time!
We are accepting SilverSneakers, Silver&Fit, and Active&Fit participants for online classes!
THE PROGRAM
How does this program work?
We are holding classes via Zoom! To access the class, use Mindbody just like you would a typical class. You'll receive a Zoom online class link via email no later than five minutes before class time.
We will hold online classes from various categories including mind-body, cardio, and dance. The online classes we offer are yoga, Tai Chi, ballet, tap, barre, and CardioSculpt.
Drop-In Class $7
---
Want to pay per class? No problem! For only $7, you can choose any live class you want one at a time.
MONTH UNLIMITED
Live Classes $60
---
Join us for any class any time with unlimited live classes for the entire month!
We are currently offering virtual classes in addition to in person classes.  Must register in advance for Studio classes. Masks required. Please check Mindbody  or call 215-913-5736  for pricing
Sunday
Monday
Tuesday
Wednesday
Thursday
Friday
Saturday
 
 
 

6:00-7:00 am
Vinyasa Yoga
Allyson
Virtual
In Studio

8:15-9:00 am
Morning Hatha Yoga
Elizabeth
Virtual

 

6:00-7:00 am
Vinyasa Yoga
Allyson
Virtual
In Studio

 
 

9:00-9:30 am
CardioSculpt
Kate
Virtual
In Studio

9:00-10:00 am
Chair yoga
Peggy
Virtual

9:30-10:00 am
Barre
Kate
Virtual
In Studio

10:30-11:30 am
Chair yoga
Peggy
Virtual

10:30-11:30
Adult Beginner Contemporary
Kacei
Virtual
In Studio


11:00-12:00 am
Zumba
Linda
Virtual
In Studio
Starts 7/26

10:00-10:45pm
Pilates Mat
Elizabeth
Virtual

 
 
 

12:00-12:45 pm
Tai Chi/Qigong
Elizabeth
Virtual

11:30am-12:20pm
Afro Jazz Technique
Bre
Virtual
In Studio


 

12:00-12:45 pm
Tai Chi
Elizabeth
Virtual

 

5:15-6:00 pm
UrbanKick Cardio
Kickboxing
Elizabeth

6:00-6:40 pm
Barre
Mary Jo
Virtual

 
 
 

6:30-7:15 pm
Adult Beginner Ballet
Mary Jo
Virtual
In Studio

6:30–7:30 pm
Zumba
Linda
Virtual
In Studio

 

6:45 -7:30 pm
Zumba
Linda
Virtual
In Studio


 
 
 

7:15-8:00 pm
Adult Beginner Tap
Mary Jo
Virtual
In Studio